How could it be otherwise?
Let me tell you how important I think the headline is:  I used it as the title of my book. (Think Bigger and 39 Other Winning Strategies from Successful Entrepreneurs)
There are two incredibly important reasons I did.
First, most people don't think big enough. In other words, you could be the biggest factor limiting your own success. That's what I discovered in researching my book.
So, if I was going to distill everything I've learned from studying some of North America's most successful wealth creators—entrepreneurs—I figured I should lead with one of the most important takeaways.  They think bigger.
It's amazing.  Before they even meet one ambitious goal, they are already formulating the next, and the next after that. The most successful people—in every walk of life—just seem to naturally think bigger.    
The second reason I called my book Think Bigger is related to the first.  If you ask successful entrepreneurs who are in the process of winding down their business careers if they have any professional regrets, you tend to hear the same thing, no matter how successful they have been. They wonder if they could have accomplished more; in other words they want to know in hindsight if they should have thought (even) bigger.
When you look at the world's most successful people, you realize that unlike most business leaders who set a reasonable objective for their company and then proceed to get there step by step, great entrepreneurs set a goal which could be 10 or 20 years in the future, a goal which seems delusional to most of the people around them.
Management gurus used to recommend long-term targets—dubbed BHAGs for big, hairy, audacious goals—to inspire employees or give them a finish line. Unlike even superstar CEOs who are inhibited from setting goals that are so big and hairy that they scare the board or stockholders, entrepreneurs are untethered. They own the show and are beholden only to their vision and imagination.
That's where the serious wealth lies, way out there on the far side of the possible: in visions of a world where there's a personal computer on every desk and in every home; where anyone can buy any book (or anything else) over the Internet; and where you can make all the information in the world accessible with a click. That's how big the founders of Microsoft, Amazon, and Google dared to think, and you can be sure that many of their family and friends thought they were nuts.
All this leads to three points I want to make.  The first is a question—well two actually I think you need to ask yourself. Could you be more successful?  Do you want to be? Those are separate but inter-related thoughts.
How you answer those questions brings me to point two.  As you think about the level of success you want to achieve, the only person you need to compare yourself to is you.  You may want to build one of the 500 largest companies in the world.  But you objectives might be less.  The only person you need to satisfy is you.
Here the last thought.
Post-mortems are good. Pre-mortems are better.  Instead of second-guessing yourself after that fact (or after your career is over) periodically reevaluate not only your performance but dreams.
---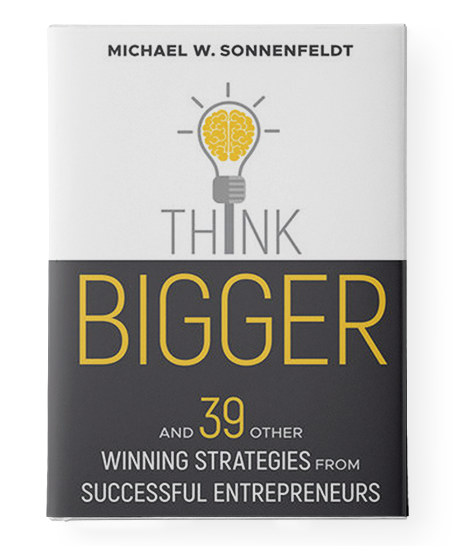 A NEW RESOURCE FOR ENTREPRENEURS
Discover Think BIGGER—a new book by Wiley and part of the Bloomberg series. This book is a must-have for any entrepreneur. Think BIGGER will show you the skills to grow wealth that can be applied to making the world a better place.